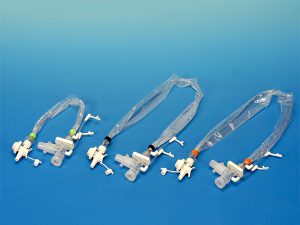 Use to absorb secretion from the respiratory tract.
Form 1 Specification List Unit:mm
Specification

OD

Minimal ID

Length

Color Mark

6 Fr

2.0±0.10

1.00

300±15

 Pea Green

8 Fr

2.67±0.10

1.50

 Light Bule

10 Fr

3.33±0.15

2.00

600±30

 Black

12 Fr

4.0±0.15

2.45

 White

14 Fr

4.67±0.20

2.95

 Green

16 Fr

5.33±0.20

3.40

 Orange
Direction for use

(1)Choice the suitablespecification of suction catheter(diameter, length etc.).
(2) See the sketch map, take off the cap of tube exit on the aspirator switchconnects the aspirator connector tube. The three-ways connector connects thetracheal catheter and respirator tube. Close the irrigation ports when the tubedoes not irrigation.
(3) Adjust the vacuum conditioner of aspirator when absorb the phlegm, thedegree of vacuum of the tube about 80-120mmHg (-10.7~-15.9kpa).
(4) When the closed suction catheter does not use, push the slide valveto close. When absorb the phlegm push the slide valve to open at first. Andthen the suction catheter will be put into the tracheal catheter gentlysimultaneously observe the scale on the suction catheter for control the depth.
(5) After suction withdraws the catheter gently until the protectivesleeve (transparent plastic film) is straight. (At this time the top of suctioncatheter has withdrew the front connector), closed the slide valve.
(6) Irrigation: At this time the slide valve should be closed, put theirrigation port into the container, take off the control valve.